20 Soal Camping Kelas 3 SD Beserta Kunci Jawaban
Kiranakhatulistiwa – Silahkan gunakan 20 Soal Camping Kelas 3 SD Beserta Kunci Jawaban in isebagai salah satu referensi bahan latihan atau exercise siswa untuk melatih serta megnukur kemampuannya terhadap pemahaman materi yang telah diberikan sebelumnya.
Read the text carefully:
    My family is taking a camping to Bandung this week. My family and I are very excited because we are going to learn how to make a tent. If the weather is nice, we can even start building a camp fire and roast some food. We will leave for the camp at 08:00 and arrive there by 10:00
    Along the car, I see many trees around. Also, I already prepared everything on my backpack, there are things that I carry to the camp such as: a flashlight, first-aid kit, sleeping bag, a knife, and some dried food. This family trip teaches us about nature and to take on vacation.
1.
Where the family trip is going to be
to
?
2.
Why is the writer excited to be on this trip?
a.
Because going to learn how to make a tent
b.
Because it is family trip
c.
Because there is a camp fire
3.
What are the items that the writer prepared to take with him?
a.
First aid kit, sleeping bag, knives, can food
b.
Flashlight, first aid kit, sleeping bag, knife, dried food
c.
Flashlight, knives, sleeping bag, food
d.
Food, flashlight, knife,
firs
t
aid
kit
.
4.
How much time does the way take to reach the campsite?
5.
Mom: Don't forget to pack your things
Me: Yes, mom. Already packed on my …
6.
Where is your …? Is that yours?
.

7.
It's
an … to cut the trees, I guess.
.
8.
Do you
have … to fill the water?
9.
A: Where we headed now?
B: I don't know, I don't bring a compass, I only have this map.
What do they have?
10.
What is
campfire
means in Indonesia?
B.
Fill in the blanks with the correct words.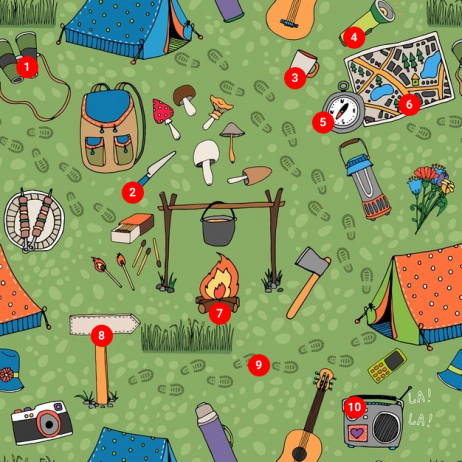 1.
Yesterday we went camping and bring ___________.
2.
We peel some apples with a ___________.
3.
I use my ___________ to drink a tea.
4.
It was so dark at night, so I brought a ___________.
5.
My friend carried a ___________ just in case we are not get lost.
6.
One of my friends can read a ___________.
7.
It was very fun, but it is cold too. So, we light some ___________.
8.
There is a ___________ to beware of bears.
9.
When we walked away from our tents, we saw ___________ on the ground.
10.
In the morning we turned on the song from
___________.
.
Silahkan download Soal Latihan Telling Time Bahasa Inggris Kelas 2 SD di atas melalui tautan berikut :